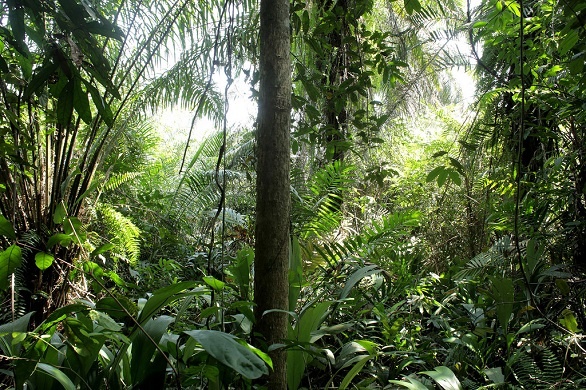 How Foresters Limit Their Carbon Footprint
Forests absorb airborne carbon dioxide, store carbon in wood, and return pure fresh oxygen to the atmosphere. As that process continues, though, gases in the atmosphere absorb the planet's heat and radiate it in all directions. When that heat cannot escape Earth's atmosphere, the planet's temperature warms.
Scientists estimate that nature is only able to remove about half of all carbon dioxide added to the environment. The good news is that forests, particularly those in North America, are continuously pulling carbon dioxide out of the atmosphere and storing it in solid wood. Because these forests are growing more than is being harvested, the U.S. Forest Service estimates that U.S. forests currently serve as a carbon 'sink', offsetting approximately 13% of U.S. emissions from burning fossil fuels.
Canadian Harvesting Practices
Wood products harvested from forests continue to store carbon throughout their use. According to the Canadian Climate Forum's Issue Paper #4 from Fall 2015, Canadian timber harvesting practices emit minimal greenhouse gases. Improvements are continually being made to the industry's lumber manufacturing practices to reduces its carbon footprint.
Energy and greenhouse gas emissions to produce forest products are less than materials wood often replaces, such as metals, concrete and plastic. Canada's forest products industry has been a leader in reducing greenhouse gas emissions from its manufacturing processes. Since 1990, the pulp and paper industry in Canada has reduced emissions by about 65%. This has been accomplished by replacing fossil fuels used for mill processes with low net-carbon emissions energy generated by burning wood residues once disposed of by burning without energy recovery.
U.S. Harvesting Practices
The United States has about 751 million acres of forest area, equal to about one third of the country's total land area. According to the 2010 National Report on Sustainable Forests, forty-four percent of United States forests are owned by local, state, or national governments and the rest are owned by private land owners. Sierra Pacific Industries, a forest products company, is one of the largest private land owners in the country, and is typical of how landowners approach sustainability. Regarding how their land is managed, Mark Pawlicki, the Director of Corporate Affairs and Sustainability for Sierra Pacific Industries, states,
"Sierra Pacific manages its forest lands on a sustainable basis. In California, we operate under the state's rigid Forest Practices Act and Forest Practice Rules which require large timberland owners to not harvest more than they grow. In both California and Washington timber harvests are conducted only after a review and approval by state regulatory agencies. In addition, all of SPI's 1.9 million acres of forests are certified under the independent Sustainable Forestry Initiative, which ensures that we are managing our lands on a sustainable basis for wood products, wildlife habitat, water quality, and other environmental attributes."
Forest Certification
Voluntary third-party forest certification began in the 1990s in response to market concerns about forest management and illegal logging, primarily in developing countries. Other widely used forest certification programs in North America are the Forest Stewardship Council (FSC) and the Programmme for the Endorsement of Forest Certification. Programs like these are all designed to assure consumers that the wood products they purchase have been produced sustainably. They are also assured that these forests are doing their part to offset fossil fuel carbon emissions.
Resources
This is the second of a five-part series on forests and climate change.
Previous: The Carbon Cycle

Coming Next:
How Non-Profit Forest Certification Programs Were Born
REDD+ and UN-REDD
The Future of Forestry
https://naturespackaging.org/wp-content/uploads/2021/05/forest-interior.jpg
390
586
Glenn Meeks
https://NATURESPACKAGING.ORG/wp-content/uploads/2021/06/1200412484127721.QuauOqJb7ZRN0oh3sj7E_height640.png
Glenn Meeks
2016-10-21 21:21:12
2021-06-04 12:05:05
How Foresters Limit Their Carbon Footprint