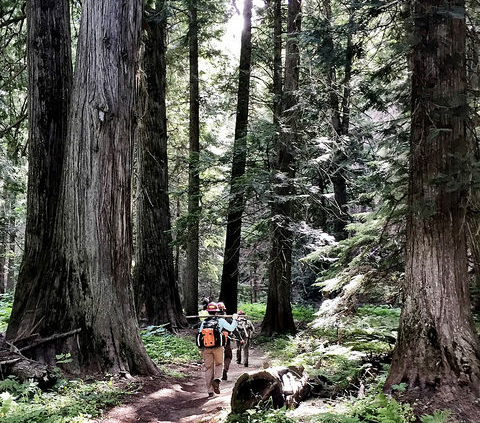 The GreenBlue Program
The GreenBlue Program is one which has broad support from the U.S. Forest Service, as well as public corporations such as McDonald's, Mars, and Staples, with the stated goal of developing a new forest sustainability tool called Forests in Focus, and using it to increase sustainability and the certified supply of wood products. Forests in Focus is a digital mapping tool which will complement the initiative for certifying family-owned forests as sustainable, and as being managed with an appropriate level of respect for conservation. Nearly 40% of the commercial wood fiber produced in the U.S. comes from family-owned forests, but only about 1% of the source forests are certified for sustainability and environmental friendliness.
Problems with certification
Up to the present, certification of family-owned forests has not been so much an issue of unacceptable management processes, as it has been an issue of the certification process itself having little benefit for owners of such assets, while also being very costly to acquire. This is why the American Forest Foundation (AFF) has joined forces with the Forest Service in backing the GreenBlue Program, so as to get all the parties together, in an effort to understand the issues hindering certification.
The group has made significant progress, beginning with discussions about how to increase forest certification, and then progressing into exploring options on how to achieve greater access for monitoring, and potentially certifying, the vast lands currently belonging to the un-certified category of forest land. It has also addressed sustainability issues on the ground floor of these operations, and has hosted discussions with brand owners who cannot secure sufficient quantities of wood from certified forests.
How GreenBlue will help supply and sustainability
The partnership of big corporations, the American Forest Foundation, the U.S. Forest Service, and the Environmental Systems Research Institute (ESRI), is paying dividends, as participants in the joint program have identified issues with the supply chain and have gained a better understanding of the importance of family-owned forests. When added to existing initiatives for certification, support for the GreenBlue Program should help bring in many more family-owned forest lands and increase certifications dramatically.
The new digital mapping tool, Forests in Focus, will help to identify gaps in sustainability wherever family-owned forest lands exist, so that such owners can be approached and assisted with obtaining certification. The hope is to involve a great many more family-owned enterprises in the certification process, so that supply chain shortages can be relieved, and so sustainable methods can be ensured on those lands where it might not currently exist.
In order to accomplish this, a vast amount of data must be gathered, correlated, and analyzed, so that the most informed decisions can be made about where to focus attention. Information on forest status, local trends, species, size, growth rates, mortality, and harvest rates must all be aggregated for analysis, so that visual depictions of the data can be developed, and then used to maximum effect by all of the participants in the GreenBlue program.
Resources:
https://naturespackaging.org/wp-content/uploads/2021/05/ImageNPGreenBlue-1.jpg
640
480
Glenn Meeks
https://NATURESPACKAGING.ORG/wp-content/uploads/2021/06/1200412484127721.QuauOqJb7ZRN0oh3sj7E_height640.png
Glenn Meeks
2018-07-03 07:58:07
2021-06-04 12:05:03
The GreenBlue Program