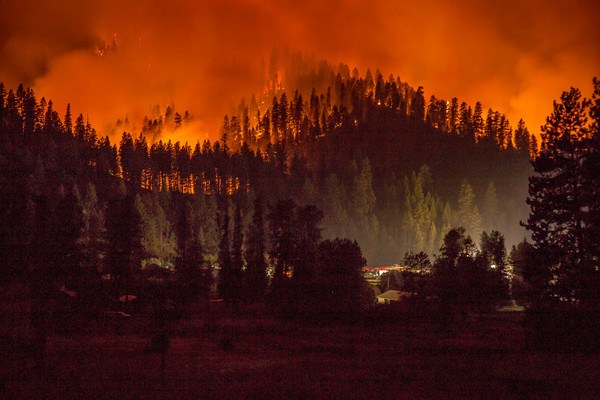 Omnibus Funds the Fight Against Wildfires
Nature's Packaging is committed to forest sustainability and sustainably managing forests is key to maintaining healthy forests. A fix for the method by which forest fires have been funded has finally been included in the 2018 Omnibus Spending Package, which was recently signed into law by the President. Secretary of State Sonny Perdue had lobbied for modification of the way the U.S. Forest Service (USFS) has been funded for firefighting ever since he took office in April 2017, and all his hard work has finally achieved success. A solution to the funding problem has been needed for several decades, and when Secretary Purdue came into office, he made it a priority, working with congressmen from both parties to finally achieve the necessary funding structure.
What's included in Omnibus
For the period beginning in 2020 and ending in 2027, there will be an entirely new funding structure for the way forest fires are managed. Starting in 2020, there will be $2.25 billion available to the US Department of Agriculture and the Department of Interior for fighting fires. Each year after 2020, the budget allotment will increase by $100 million, peaking at $2.95 billion in the year 2027.
If all funding available in the allotment is used, it will be required of the Secretary of Agriculture to produce a congressional report documenting all the expenditures which were made for fighting fires during the fiscal year.
Improvement over the past 
This new funding package represents a significant improvement over how funding was handled in the past. Formally, a rolling 10-year average of funding was used, while the overall USFS budget stayed basically the same. However, during that period, fire seasons became longer with conditions that were worsening, so the rolling 10-year budget average kept rising.
That consumed a larger percentage of the U.S. Forest Service budget every year, which in turn mandated that the agency use funds from prevention programs in order to cover the cost of fire suppression. It was also necessary to cut a number of recreational programs, such as hunting and fishing, in order to ensure adequate funding for fire suppression.
In 2017, fire suppression costs were more than $2.5 billion, which was the highest total ever recorded, and during the height of the fire season, more than 28,000 personnel were involved with the fire suppression effort. This makes it extremely important that the Omnibus Package was approved this year, since it has been clearly demonstrated that fire seasons are becoming longer and more costly every year, at least for the present time.
https://naturespackaging.org/wp-content/uploads/2021/05/ImageNPOmnibus-1.jpg
400
600
Glenn Meeks
https://NATURESPACKAGING.ORG/wp-content/uploads/2021/06/1200412484127721.QuauOqJb7ZRN0oh3sj7E_height640.png
Glenn Meeks
2018-06-25 07:57:30
2021-06-04 12:05:03
Omnibus Funds the Fight Against Wildfires