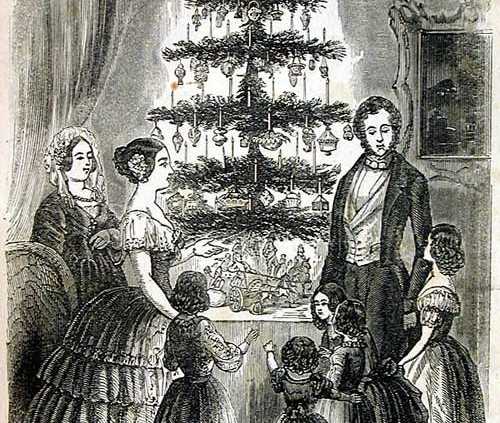 The History of Christmas Trees in North America
Real Christmas trees are recyclable. They are often repurposed into mulch for garden use or the biomass can be converted to energy at cogeneration plants. As North America prepares for the holiday season, we want to take a moment to consider the history of Christmas trees in North America.
Early in American history, Christmas trees were abhorred for religious purposes but are now widely popular. In this article, we'll discuss how Christmas trees evolved into a staple of the North American Christmas tradition.
Trees that remain green all year long have historically held special meaning for people around the world. The Germans are credited with starting the Christmas tree tradition in the 16th century. However, the Christmas tree tradition wasn't widely adopted in the United States until much later. New England Puritans believed Christmas was sacred and celebrating the holiday with decorations was considered a mockery of faith. In fact, the General Court of Massachusetts enforced a law in 1659 that fined people for hanging decorations on December 25th. This continued until the 19th century, when the popularity of Christmas trees exploded.
Rising Popularity
In 1846, Queen Victoria and German Price Albert were sketched in the London News with their children standing around a Christmas tree. Queen Victoria was very popular and the things she did often became very fashionable in Britain and East Coast American society. As the image spread, eventually the number of people who wanted Christmas trees outnumbered the Puritans; and decorating homes with Christmas trees became a widely accepted practice in the United States.
Tree Decorations
In the early 20th century, people mostly decorated their trees with homemade ornaments, apples, nuts, or marzipan cookies. At one point, popcorn was dyed bright colors and interlaced with berries and nuts for decorations. Then, electricity paved the way for Christmas lights.
1917 Halifax Explosion
When German settlers migrated to Canada in the 1700's, they brought with them the Christmas traditions we celebrate today, including gingerbread houses, cookies, Advent calendars, and, of course, Christmas trees. When Queen Victoria made Christmas trees fashionable, it quickly spread to Canada as well and they embraced the tradition as well.
On December 6, 1917, there was a terrible accident in Halifax, Nova Scotia. Two ships collided at the harbor. The accident killed about 2,000 people and destroyed nearly half of the city. Boston relief workers were the first to arrive on scene, despite being delayed 24 hours due to a blizzard. They sent medical supplies, doctors, and nurses in response to the accident.
The following Christmas in 1918, Nova Scotia sent a Christmas tree to Boston, Massachusetts thanking them for their aid during the accident. The practice, however, lapsed several years until it returned in 1971. Every year since 1971, Nova Scotia has sent Boston a Christmas tree from their province. They felt especially connected to the tradition in light of the 2013 Boston marathon bombing. 2016 will be the 45th consecutive year that Nova Scotia has sent Boston a Christmas tree.
Rockefeller Center Christmas Tree
The first Rockefeller Center Christmas tree was placed in 1931 by construction workers at the center of a construction site. It was said to be small and undecorated. Two years later, another tree was placed in the same spot, except this time with Christmas tree lights. Between 1931 and 2016, the only year there was not a Christmas tree at Rockefeller center was 1932. Historically, the trees were donated, and the predominant species is Norway Spruce. However, in more recent years garden managers hand-select a Norway Spruce from neighboring states, even Canada. To date, the infamous Rockefeller Center tree is decorated with more than 25,000 lights. It normally arrives on Veterans Day.
At present, it's very common for North American cities of all sizes to host Christmas tree lighting ceremonies. Events like these tend to draw large crowds as tree lighting ceremonies have become culturally significant in North America and in many countries around the world.
Resources
https://naturespackaging.org/wp-content/uploads/2021/05/Victoria_and_Albert_Christmas_tree.jpg
737
500
Glenn Meeks
https://NATURESPACKAGING.ORG/wp-content/uploads/2021/06/1200412484127721.QuauOqJb7ZRN0oh3sj7E_height640.png
Glenn Meeks
2016-11-16 21:45:26
2021-06-04 12:05:05
The History of Christmas Trees in North America