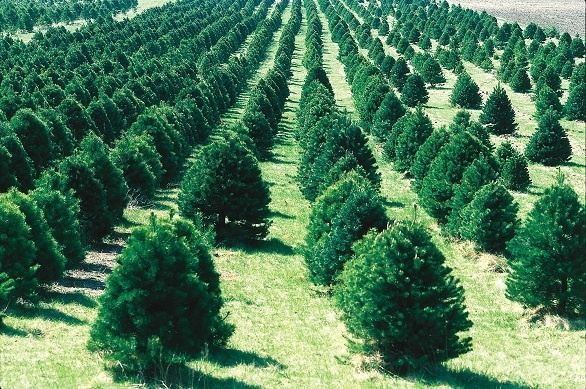 Christmas Tree Farms
As this holiday season begins we're exciting to be sharing some sustainable industry practices from the National Christmas Tree Association (NCTA). Each year since 1966, the NCTA has provided the real Christmas tree that is on display at the White House Blue Room. Christmas tree farms are sustainable and real Christmas trees can be recycled into many of the same wood by-products as wood packaging materials.
Christmas trees are harvested, on average, 7-8 years after they're planted and younger trees sequester a great deal of carbon from the atmosphere. Each year that a tree is harvested from a Christmas tree farm, another tree is planted in its place. Tree stumps are grinded to make space available for new trees to flourish. Grindings from wood stumps can be used to make garden mulch, outdoor walkway paths, or compost. Christmas tree farms are incredibly sustainable. Very little goes to waste!
Over the years, the NCTA has kept a close eye on the industry's performance. They estimate that there are on average, between 25 – 30 million real Christmas trees sold in the United States every year and there are approximately 310 million Christmas trees currently growing on nearly 13,000 farms across the United States.
Artificial v. Real Christmas Trees
Most people choose artificial trees simply because there are no fallen needles to pick up. Many people also believe that artificial trees are more environmentally friendly than real trees. However, many artificial trees are made with PVC plastic and are non-recyclable. In other words, there is no other way to recycle an artificial Christmas tree once it has reached the end of its life. Additionally, there are questionable practices surrounding the production of PVC. According to a report published by Greenpeace UK, the production of PVC can emit carcinogens such as dioxin, ethylene dichloride, and vinyl chloride.
Real Christmas trees are carbon neutral, they're safe for indoor use, and they're recyclable. The selection process alone is a cherished and time-honored tradition among many families. Purchasing a real Christmas tree is a much more environmentally responsible decision. Farm-grown Christmas trees are sustainable.
Selecting the Best Christmas Tree
The NCTA encourages everyone to shop early for the best selection no matter where they live. Always request a fresh cut at the base of the tree's trunk before you bring it home.  Then, once you get home, immediately place the tree trunk in a bucket of water particularly if the tree is not going to be placed in its stand for a while. For best results and a longer lasting beautiful real Christmas tree, always keep the tree watered throughout the holiday season.
Resources
https://naturespackaging.org/wp-content/uploads/2021/05/Christmas_tree.jpg
389
586
Glenn Meeks
https://NATURESPACKAGING.ORG/wp-content/uploads/2021/06/1200412484127721.QuauOqJb7ZRN0oh3sj7E_height640.png
Glenn Meeks
2016-11-30 14:35:19
2021-06-04 12:05:05
Christmas Tree Farms