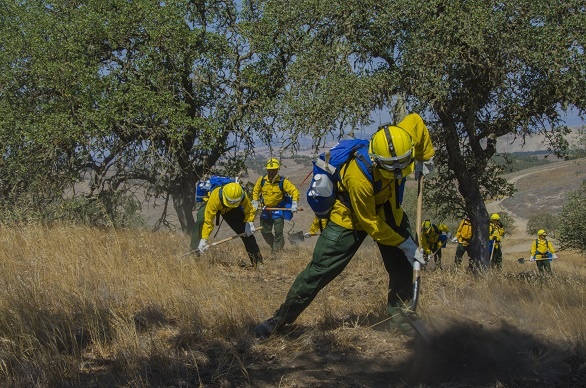 USDA Helps Veterans Find Forestry Jobs
Veterans sometimes face impeccable difficulties in the job sector since many organizations and businesses view them as high risk employees.  Yet lately, veterans as a workforce have been gaining positive attention and are even sought after in government sectors because of their work ethics, skills, and discipline.  The USDA is one of the government sectors that puts a lot of emphasis on finding job placements for veterans and it is currently estimated that they make up for about 12 percent of the Forest Service workforce.
Wildland Firefighter Apprenticeship Program
This employment method consists of a two-part program that veterans can join to improve their chances of getting job opportunities in the Forest Service.
The first part of the program involves completing 500 hours of work experience during which veterans get the opportunity to work on fuel reduction and wildfire projects. They also learn various other skills like crew organization, chainsaw management, and wildland firefighting safety.
Once the 500-hour program is completed, veterans will become eligible for the Wildland Firefighter Apprenticeship Program, an accredited educational program for fire and aviation management, which could lead to lucrative careers within the Department of Agriculture.
Why the Forest Service workforce is perfect for veterans
Forest Service work is often considered a dirty job, however, it is purpose driven.  Many of the jobs are for trail maintenance and improvements, watershed protections, biomass removal to prevent wildfires, and infrastructure improvements. Forest work has a lot to do with safety and security and veterans are sought after in this particular sector due to their extensive experience in survival training, combat training, ethics, discipline, and security.  In effect, it appears that military training makes them ideal candidates to serve and protect national parks and forests.
Who funds it?
The Forest Service has formed a partnership with the California Conservation Corps.  As of June 2017, they have raised $20 million dollars which would make available 4,000 jobs to veterans and young people. Their goal, however, is to invest $40 million by the end of the year to create 11,000 jobs total. They view the Wildland Firefighter Apprenticeship Program as a win-win because both veterans and natural forests benefit from these programs.  Veterans have access to good career opportunities with benefits.  The Forest Service benefits because they have access to a workforce with training and experience that could be used to enhance the safety and preservation of national parks and forests.
The North American forest industry works arduously to protect our forests and ensure that each year, more trees are planted than are harvested. Maintaining the safety of national parks and protecting watersheds are key to preserving national parks and trails. Nature's Packaging is committed to North American forest sustainability so that forests continue to be safely explored and enjoyed.
References
https://naturespackaging.org/wp-content/uploads/2021/05/np-image-1.jpg
388
586
Glenn Meeks
https://NATURESPACKAGING.ORG/wp-content/uploads/2021/06/1200412484127721.QuauOqJb7ZRN0oh3sj7E_height640.png
Glenn Meeks
2017-11-21 21:07:48
2021-06-04 12:05:03
USDA Helps Veterans Find Forestry Jobs