At Nature's Packaging, we are always on the lookout for new websites that demonstrate how wood, as useful resource, is a necessary and interesting part of our everyday world. Of course, wood packaging in all its forms would not be possible without forests and the trees that provide the raw materials. In today's blog post on Nature's Packaging, we visit the American Forests Organization.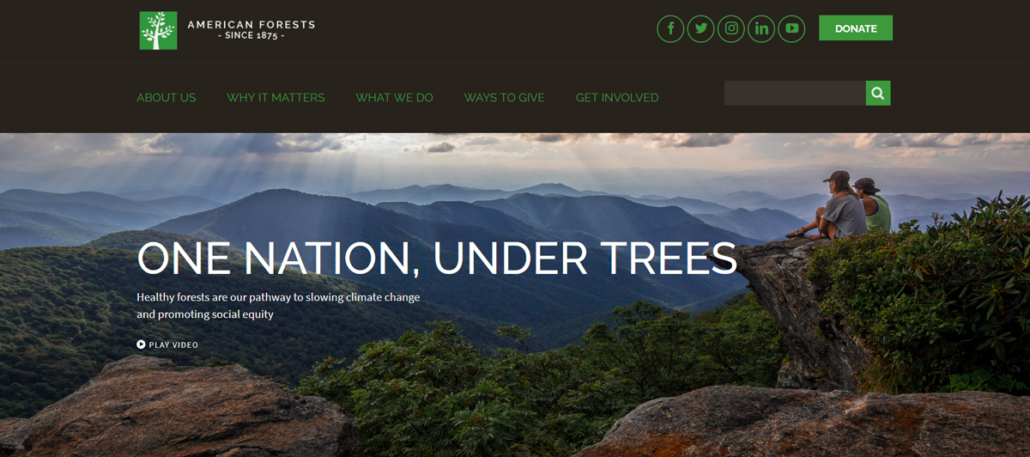 One Nation, Under Trees
Founded in 1875 as the American Forestry Association and originally led by Dr. John Aston Warder, American Forests is the oldest national non-profit organization dedicated to conservation and reforestation throughout the United States. They were also one of the pioneer groups that helped in founding the U.S. Forest Service.
American Forests has three stated goals to accomplish by 2030:
To plant at least 4 billion trees across the United States (as part of the Trillion Tree Movement)
In 100 American cities, every under-resourced neighborhood, reaches a passing Tree Equity Score
At least 100,000 people, especially from under-resourced areas, with jobs in forestry.
The conservation and reforestation movement encompasses both rural and urban landscapes and their mission is to "create healthy and resilient forests, from cities to wilderness, that deliver essential benefits for climate, people, water and wildlife".
To those ends, their endeavors are dedicated to restoring America's forests through projects and programs like the American ReLeaf Program that helps implement reforestation projects in partnership with local governments and municipalities.
Also, with over 140 million acres of forestland located in urban and suburban areas, American Forests Urban ReLeaf Program works with these communities to properly plan, plant, and maintain urban forest treescapes and environments for the health and well-being of its residents.
American Forests are at the forefront of shaping government policies around forest preservation and reforestation at both a federal and local level. As mentioned, they were instrumental in the creation of the US Forest Service in 1905.
Most policy work today is centered around the 1 Trillion Tree Movement (1t.org), which is "a World Economic Forum-led (and American Forests-supported) platform for governments, corporations, nonprofits and individuals worldwide who have made or will make commitments to increase the number of trees on the planet and/or prevent the loss of trees that are already in the ground. This will, collectively, add up to 1 trillion healthy trees globally by 2030".
Their website also offers some great report and white paper resources dedicated to urban forestry, forest preservation, wildfire resilience, and government policy among other things.
Tree Equity Score
The American Forests organization has created a unique scoring system based on what they call Tree Equity.
Tree Equity focuses on tree coverage in cities and urban areas across the US and considers multiple factors including:
Existing tree canopy
Population density
Income
Employment
Surface temperature
Race
Age
Health
These factors are input and summed to create a Tree Equity Score between 0 and 100. A score of 100 means the neighborhood has achieved Tree Equity. The Tree Equity Score Analyzer (TESA) is an interesting tool that can be used by local government and policy makers to help plan where planting trees would have the best positive impact for the local community.
The TESA tool is free for anyone to use, and it will help you explore a location and determine the Tree Equity Score. A tip here is to start with a city near you and use the map feature to pinpoint your neighborhood.
Why?
Why learn about conservation of forests, reforestation, and urban forestry? Because these projects are not only vital to the public at large. The organizations, projects, and tools connected with these initiatives are an integral part of forest management at a national scale.
The organizations and associations that champion our national forests are the ones that ultimately shape the policy and laws around the industries that provide resources and materials for the forest products industry. The wooden pallet and container industry sits squarely within that box and we must be "aware of" and "informed on" the issues and challenges faced by the partner groups and industries that are both upstream and downstream from our own industry.
https://naturespackaging.org/wp-content/uploads/2021/09/wood-on-the-web.png
600
1200
Glenn Meeks
https://NATURESPACKAGING.ORG/wp-content/uploads/2021/06/1200412484127721.QuauOqJb7ZRN0oh3sj7E_height640.png
Glenn Meeks
2021-09-08 19:05:32
2021-09-09 15:50:53
Wood on the Web: American Forests