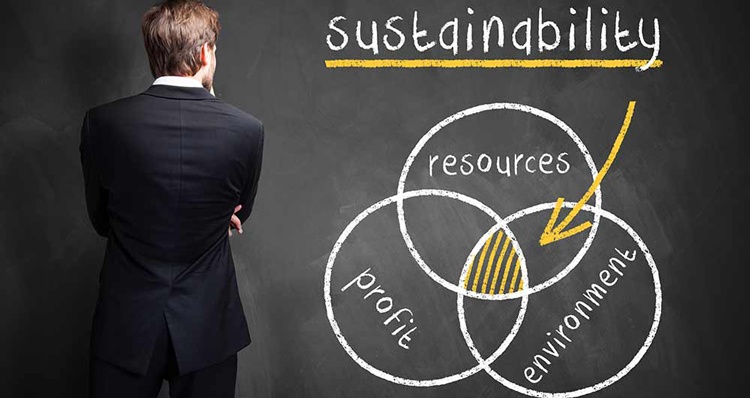 What is a Chief Sustainability Officer?
The recent emergence of the Chief Sustainability Officer (CSO) role as a C-suite executive is a signal that sustainability initiatives are now a center stage concern in the modern corporate environment.
In the latter 20th century, sustainability was more likely to have been promoted by volunteer champions or green project teams. However, when sustainability as a corporate goal gradually evolved, the role became combined with compliance oversight (such as from a Health, Safety, and Environmental manager or director).
Regulatory compliance was the emphasis. Initially, there was little thought given to the importance of sustainability in building brand and employee loyalty, not to mention its potential to re-invent company strategy.
Given today's concern regarding climate change, along with increasingly complex sustainability reporting requirements, the business playing field has fundamentally shifted. The crucial role that CSOs can play has hastened their entry – and acceptance – into the boardrooms of major corporations.
The Chief Sustainability Officer is the highest-ranking executive of an organization explicitly charged with providing oversight to the company's sustainability impacts, activities, and aspirations. The CSO advocates for sustainability improvements, and must bring a broad skill set to the table, including leadership experience, environmental and business management acumen, and effective public relations skills.
Typical career path for a Chief Sustainability Officer
Because the CSO role has only come into being recently, career paths leading to that position have been diverse. People have come from various educational backgrounds such as:
business management,
environmental studies,
computer science,
and legal training.
However, more and more business education programs with a sustainability focus are now available. Institutions such as San Francisco State University, Antioch University New England and Clark University offer MBA programs with sustainability or sustainable business concentrations.
Along with the maturation of the sustainability function within organizations, better-defined career pathways are beginning to emerge, such as sustainability intern positions and administrative/managerial roles reporting to the CSO.
CSO Role in the company
As the highest-ranking executive responsible for sustainability within an organization, the CSO's role can vary depending upon the company's level of commitment,
According to one study, researchers categorized three commitment levels:
Compliance – the focus is on meeting regulatory requirements, with little centralization or coordination of efforts.
Efficiency – a greater strategic emphasis on finding ways to improve efficiencies and lower costs, such as cutting energy usage or reducing solid waste generation. At this stage, the CSO may be responsible for identifying and executing such cost-reduction strategies across the organization.
Innovation – a strategic shift from finding efficiency gains to integrating sustainability aspirations into the core business. The focus shifts to the maximization of long-term profitability through identifying strategies that also support positive environmental and social change, such as through sustainable procurement. The CSO helps develop the company's sustainability strategy as well as the roadmap to achieve it.
CSO – Job Responsibilities
The job responsibilities of the CSO can be diverse and will vary depending upon the industry and the sustainability aspirations of the company. Universally, there are activities that help embed sustainability into the company's culture. These may include:
Developing an in-depth understanding of the company and industry, including crucial sustainability issues
Managing environmental regulation and certification reporting requirements
Setting sustainability goals and priorities
Identifying, evaluating and implementing programs that improve sustainability
Leading regional sustainability round tables to drive strategy, project ownership and employee engagement
Participating in facility tours and identifying local champions
Coaching and mentoring of other executives
Interaction with external stakeholders such as trading partners, regulators, industry groups, certification bodies, and the media.
Maintaining professional standing by attending training sessions or related events, and sharing insights with the relevant corporate teams
Helping to create transformational strategies that embed sustainability into the heart of the business
Examples of the Chief Sustainability Officer
Dane Parker became CSO of General Motors Co., effective February 2020. It is a new position for GM. He most recently served as the company's vice president of sustainable workplaces. In that role, he helped GM reduce its manufacturing carbon intensity by 20% – three years ahead of its goal – enabling it to become an EPA-recognized leader in energy efficiency and renewable energy utilization.
 In this role, Parker will lead a company-wide sustainability strategy, including the integration of the company's goal to reach a zero-emissions future. His team will ensure the responsible consumption and production of materials, lead GM's efforts as a global advocate for climate-sensitive manufacturing and mobility operations while leading the strategic design and implementation infrastructure for electric vehicles at GM facilities.
Parker joined GM in July 2015 as executive director of global facilities. Before joining GM, he was vice president of global real estate, facilities and environment, health, and safety for Dell Inc. 
Michael Kobori became the first CSO for Starbucks in early 2020 after serving 22 years with Levi Straus & Co. He was Vice President, Sustainability for 13 years at Levi Straus, and before that, was Director, Global Code of Conduct. He received a Masters Degree in Public Policy from the University of California, Berkeley, in 1995.
He has joined Starbucks at a crucial juncture in its sustainability journey. "Our aspiration is to become resource positive – storing more carbon than we emit, eliminating waste, and providing more clean freshwater than we use," Starbucks CEO Kevin Johnson said in an open letter.
"The crisis that the planet is in is impacting people, is impacting our customers, is impacting our partners, and is impacting farmers who grow our coffee all around the world and their communities," Kobori told Fast Company. "So it's not going to be enough to simply reduce our own footprint. Our long-term vision is we've got to reverse that."
With this reversal in mind, Starbucks has introduced five strategies, including an increased emphasis on plant-based food, as well as reusable packaging, regenerative agricultural practices, innovative waste management and innovation toward eco-friendly stores and operations.
In summary, the need for the Chief Sustainability Officer has emerged in response to a recognition that it is no longer "business as normal". The influence of the CSO in helping organizations achieve their sustainability aspirations will accelerate in the years ahead.
https://naturespackaging.org/wp-content/uploads/2021/05/Chief-Sustainability-Officer-1.jpg
398
750
Glenn Meeks
https://NATURESPACKAGING.ORG/wp-content/uploads/2021/06/1200412484127721.QuauOqJb7ZRN0oh3sj7E_height640.png
Glenn Meeks
2020-02-12 20:01:00
2021-06-04 12:05:02
What is a Chief Sustainability Officer?