It's time for the Nature's Packaging – Wood on the Web series. In these posts, we explore interesting and unique web resources all about wood. In this blog post we look at Hearne Hardwoods, a specialty lumber yard with some very unique offerings.
Have you ever seen a beautiful piece of wood furniture and said to yourself, 'Wow! Look at that beautiful wood grain. Where do they find pieces like that'?
Well, in some cases they find those beautiful pieces of wood at Hearne Hardwoods.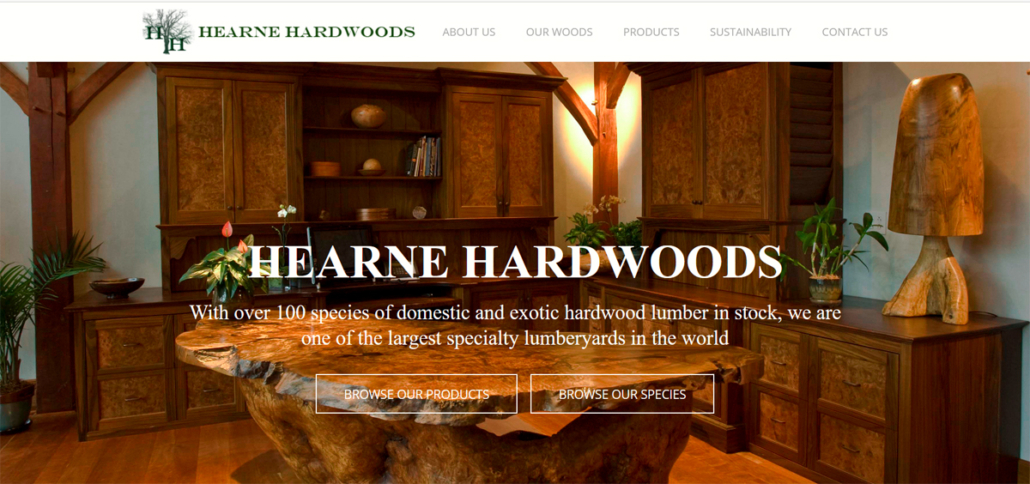 About Hearne Hardwoods
Hearne Hardwoods Inc. was started in 1997 by Rick and Pat Hearne as a small, family-owned, specialty hardwood lumber company located in Oxford Pennsylvania on a historic 18th century homestead. From their simple beginning, the family grew it from a four person company with eight thousand square foot of usable space to a thriving business with eighteen employees and over fifty thousand square feet of manufacturing, storage, and a marvelous showroom. As the company has grown, so has their ability to provide unique wood products for new markets. Originally they were strictly a raw material yard providing exotic woods from around the world. Now, they have "branched" out to include manufacturing musical instrument blanks and this side of their business has grown significantly.
Hearne hardwoods strives to offer selections of some of the world's most unique and gorgeous wood pieces from sustainably managed forests delivered to customers in a friendly, welcoming manner. All Hearne Hardwoods customers are treated with respect and warmth. The staff onsite are very knowledgeable about their inventory and are ready to help every customer with their project, big or small.
Today, Rick Hearne and his son, Brian, travel across the globe in search of the wonderful treasures of nature that inspire woodworkers and instill a sense of awe in their customers.
Hearne Hardwood Products
Hearne offers several different categories of products:
Sustainability
Sustainable forest management is vital to preserving forests in general and especially when dealing with unique and exotic hardwoods from around the world. Hearne Hardwoods is pledged to procure forest products from legal sources who practice sustainable forest management.
They have invested in a rosewood plantation based in Central America that includes a nursery and a sawmill. They are committed to building a renewable resource that benefits the local populace as well. The plantations are diversified ecosystems of indigenous trees and plants that allow the local communities to prosper from the land. They have also mahogany, cedar, avocado, mango, and orange trees within the tracks of the plantation.
As part of sustainable management, the trees initially grow among corn stalks and when they grow tall enough they will provide shade for organic coffee bushes.
Another part of their commitment to sustainable management and renewable the resources is their project to replant fifteen saplings for every tree harvested. The trees are GPS tagged in a forest management plan and their positions are provided to the local government for tracking and so that future members of the community are aware of the resources and can take part in their growth and harvesting.
https://naturespackaging.org/wp-content/uploads/2022/01/NP-Post-WoW-HearneHardwood-011222.jpg
564
1200
Glenn Meeks
https://NATURESPACKAGING.ORG/wp-content/uploads/2021/06/1200412484127721.QuauOqJb7ZRN0oh3sj7E_height640.png
Glenn Meeks
2022-01-03 19:00:32
2022-10-16 11:19:52
Wood on the Web: Hearne Hardwoods