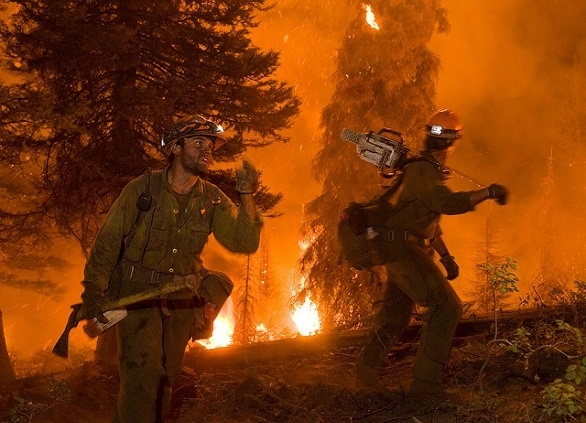 Fighting Forest Fires and Climate Change
Fire is a natural event that provides the following benefits to land once it has burned: cleans the forest floor, increases available water supply to the habitat, kills diseases, and supports new plant life.
However, in recent decades forest fires have become larger and harder to contain. In the early and mid 20th century it was common policy to fight every forest fire. Today fire fighters called hot shots use different methods to fight fires. Methods for fighting fires involve one of three options: attack some of the fire, extinguish all of the fire, or let it all burn. Fires are usually allowed to burn provided that homes, buildings, or landmarks are out of harm's way. In fact, the United States policy for forest fires that occur on federal land is to let it burn freely. If there is a forest fire that threatens private land, efforts will be made to protect that property and let the fire burn. On the other hand, if a fire occurs in an urban area, the fire must be extinguished.
Ways to Fight Fires
Airplanes will distribute fire retardant, which is usually dyed red so that it's easier to see so pilots can drop it in a straight line. When applied, it reduces the intensity of fires and slows larger ones. It often includes salts like ammonium phosphate and ammonium sulfate, chemicals used in fertilizers. The retardant clings to plant life so it can restore after a fire. Buckets of water can also be dropped on fires to aid in the fight.
Hot shots who fight the fire at the front line use different methods. One way they fight the fire is through a pre-burn. A pre-burn creates a perimeter for the fire with fire, so that when the main fire arrives at the perimeter there's nothing left to burn. Teams will dig trenches around the fire to disrupt it to prevent it from jumping. Additionally, they will clear brush in high-risk areas to prevent embers from spreading.
Forest Fires and Climate Change
In 2007, 60 Minutes ran an episode on forest fires which highlights some reasons why field experts believe forest fires have become larger and more difficult to fight in recent years. They give two reasons: poor public policy and warming global temperatures. In 1907, the United States policy for fighting fires was to extinguish all fires, everywhere. Because so much land remained unburned, this fuel buildup created conditions for the historically large forest fires we see today. In 1997, a large forest fire was considered a 100,000 acre burn and would occur 1-2 times per year. By 2007, 200,000 acre fires became the new norm and as of May 20, 2016, more than 1.5 million acres of land had burned in the United States.
Dr. Thomas Swetnam of the University of Arizona's Laboratory of Tree-Ring Research notes that recent decades have been the hottest in over 1,000 years. This has increased the number of forest fires high in mountains, where they normally don't occur. Warming temperatures in those regions that would historically hold snow pack are now dry and susceptible to fires. It seems that this could partly explain why forest fires have become more destructive in recent decades. Fires can reach higher elevations, giving them more terrain to burn.
Reference Links
(Photograph by USDA Forest Service, distributed under a CC-BY 2.0 license)
https://naturespackaging.org/wp-content/uploads/2021/05/Fire-Fighters-USFS.jpg
439
586
Glenn Meeks
https://NATURESPACKAGING.ORG/wp-content/uploads/2021/06/1200412484127721.QuauOqJb7ZRN0oh3sj7E_height640.png
Glenn Meeks
2016-08-15 16:13:31
2021-06-04 12:05:06
Fighting Forest Fires and Climate Change