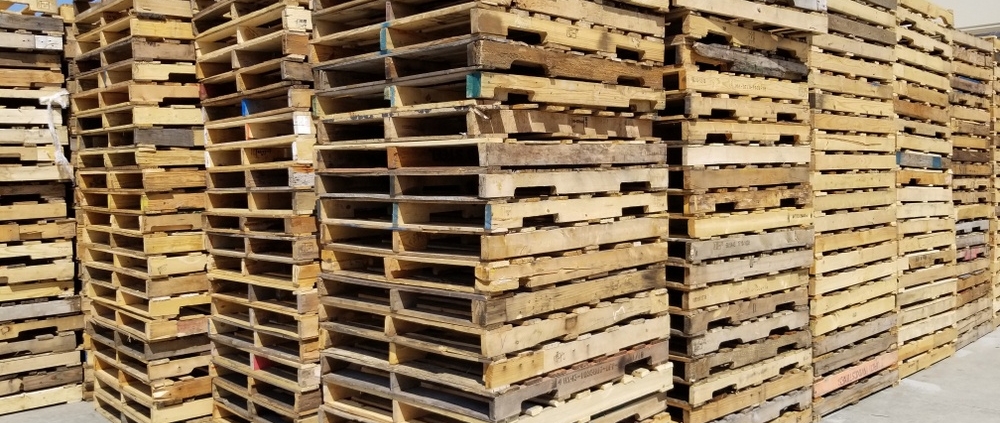 When there are potentially millions of pallets in a pool, why do pallet buyers sometimes experience delays in filling an order? Often it can come down to the class (or grade) of pallet needed, according to one pallet broker who spoke anonymously to Nature's Packaging.
For example, the customer requires a very high class 48"x40" pallet such as a "premium A grade" – one that looks almost new. If a pallet supplier does not have a ready inventory, a period of time might be required to recover the required amount from incoming empty pallets being recovered, sorted, and repaired.
In the case of the 48×40" pool, pallet recyclers produce a variety of grades from those incoming pallets. The higher grade ones are typically in greater demand and in shorter supply, so available supply can be an issue.
Even in the case of pallet rental programs, customers with extremely rigid quality requirements may require new pallets or pallets that have just been repaired versus sorted pallets, which can result in more limited availability.
It can seem counterintuitive that in a pool of possibly millions of pallets that there might tight supply, but that can be the case when the customer's expectations are more stringent than that found overall in a pallet pool.
How pallet classes are managed in pallet pools
Some pools have detailed pallet specifications that must be met by pallet manufacturers as well as by pallet repair providers. This approach is followed by major pallet rental pools as well as cooperative groups such as EPAL – the European Pallet Association. Such pools utilize  inspection personnel to ensure that pallets are properly classified.
One point of separation is whether the pallet is designated for a "one-way" model or an "exchange" model. Some rental systems, particularly in North America, rely on the one-way approach.
Once wood pallets are emptied of the product by customers, they are returned to the pallet company service center for inspection and repair, if necessary. Such an approach provides for a classification assessment before pallet reissue.
In an open or exchange model, however, pallets may be redeployed without classification, and as a result, there is a greater likelihood of lower grade pallets in the pool.
Mind you, many product manufacturers require high-grade pallets to work efficiently with palletizers, conveyors and other automation, and so they will, by necessity, remove lower grade pallets from circulation and supplement, as needed, with higher grade pallets.
All of the pallet pools above can be categorized as formal pallet pools. They have detailed pallet manufacturing and repair specifications as well as ongoing management to ensure their ongoing viability. Other pools can be categorized as "informal" or "common" pools. One of these is the 48×40" whitewood pool in North America.
Unlike the other pools discussed above, the 48×40" whitewood pallet does not have a detailed specification, nor does it have an administrative body to manage any inefficiencies or challenges.
The pallets typically have similar overall dimensions but can vary regarding deckboard thickness or stringer width, for example, or in terms of lumber species and grade. It is a market-driven pool that reflects the purchase decisions made by pallet buyers.
As a result, there is considerable variety among pallets, which can create challenges in meeting supply when a customer has particular classification requirements. Typically, these challenges can be overcome when pallet providers have users clearly communicate their pallet needs to them. 
When pallet buyers have trouble sourcing pool pallets of higher grade, there are a variety of approaches that they can take:
If you are retrieving empty pallets from customers, work with a service provider who will pick up pallets as well as inspect and repair, as necessary, prior to returning them to you.
Work with a pallet service provider who offers on-site sorting and repair services.
Pursue longer-term relationships with pallet suppliers so that they have time to accumulate the required grade and ensure availability. In the case of the whitewood pool, another approach is to buy new pallets, thereby ensuring they meet requirements, and also boosting the overall availability of higher grade pallets in the pallet pool.
Develop a proprietary pool. Another way to retain grade classification  in a pool is to invest in higher quality pallets made from higher quality pallet components . Incremental investment in pallet quality such as better nails, for example, can result in reduced frequency of repair and a much longer pallet life. This, in essence, is the approach that has been taken by pallet rental companies. It is an approach also taken by companies that run proprietary pallet pools, where it makes sense for a particular supply chain.
Ultimately, pallet classifications in a pool can have a big impact on sourcing the pallets that you need, when you need them. As outlined above, however, there are solutions at hand to help you meet your pallet requirements.
https://naturespackaging.org/wp-content/uploads/2021/05/RecycledPalletStack-1.jpg
750
1000
Glenn Meeks
https://NATURESPACKAGING.ORG/wp-content/uploads/2021/06/1200412484127721.QuauOqJb7ZRN0oh3sj7E_height640.png
Glenn Meeks
2020-10-07 00:44:49
2021-06-04 12:05:01
Pallet Pool Class Specification: How does it affect supply?